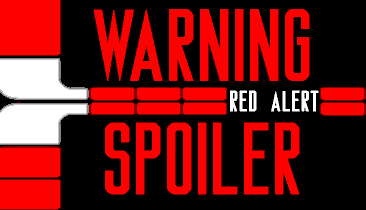 I really can't get over how beautiful this show is. That people didn't want new Trek is a shame when it's so stunning.
Tiiiiny ship is looking at Disco... which itseld looks weird.
Oh good Admiral Cornwell. Not a baddie. Bless.
The good news is she may be cranky but she is qualified to help with spock in a non-torturey way.
Ooof Spock. "not by blood".
Huh the Admiral has footage.
Control is an AI that is controlling Section 31 rather than vice versa... troubling.
YEAH WE'RE GONNA GO AND BUST UP SECTION 31
Poor Tilly can't take being a fugative around the Admiral. She's so cute.
Awww home video. Oh is that Airiam before she became all Cyborg-y?
She's deleting useless memories. BUT SHE SAVED THE ONE OF HER FRIENDS.
Tilly is everyones friend and I enjoy this fact.
Stamets is back to work, Michael and Spock are working together...
Stamets regrets getting them to talk and kicks them out.
Uh oh Airiam is glitching again. We're doomed.
Is it wrong to enjoy just how alarmed the crew are at the idea of the Fed using mines? They're still so sweet and Starfleet-y even when chasing their evil cousins they don't stop to think someone would do such a thing. Even after Lorca. Because Starfleet is better than that.
The Admiral admires Pike a lot.
And Spock is always a critic.
Awww Michael wants to play chess. But they fightin'. Such Sibling.
Security is onto Airiam. I hope. And Airiam seems to realise something is wrong. ):
Jesus we're going into a mine field without shields....
Do you think someone just looks outside the windows and is like 'HOLY FUCKING SHIT' at least once a week, given they don't always announce danger?
This is one intense chess game. Chill, guys.
Oooooh Spock is still hurt. And JESUS CHRIST SPOCK.
HE HAS NEVER BEEN MEANER HOLY SHIT.
I mean in a weird way he's trying to help her but he's angry about her trying to leave them.
Oh man this Hurts.
I'm into it, but owwwwwwwwwwww.
PIKE NOW IS NOT THE TIME SHE NEEDS TO CRY.
Saru noticed she's upset ): Space Bro knows.
Oh good, no shields and someone is steering the mines at Disco.
Airiammmmmm noooooo
Would someone get Airiam awaaay from that console please? Fuck.
Hey kids we made it!
Starfleet Command ordered te attack?!
I love Pike so much.
Spock is poking fun at Stamets talking to his machines lmao.
Awwww Stamets telling Spock that Burnham loves Spock.
And Spock offers romance advice.
Mag boots!
An away mission with our fave cyborg girl isn't going to go well. She's still trippin'.
Dead tellorite?
Well Life support is back and all the dead bodies fell to the floor.
THE VULCAN ADMIRAL HAS BEEN DEAD TWO WEEKS
Saru also proved Spock is innocent! Go team!
Tilly has discovered trouble in our Cyborg girl!
Oooh shit possessed Airiam ripped off the Sec officers life support.
Cool fight though.
Exo-suits provide less armour than you'd think to look at them.
Tilly is trying to human her back from the edge yeaaaaaah.
Poor baby she's trapped ):
Michael Burnham does not accept defeat.
EVERYTHING IS BECAUSE OF MICHAEL? oh this is heartbreaking.
CAN SOMEONE NOT BEAM HER BACK OMG?
Well that was horrifying and sad.